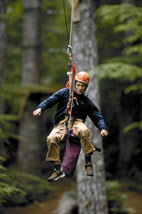 BSA Climbing for the Beginner

Never climbed before, but want to learn? This is a great weekend for the new-to-climbing adult who may later want to become a Climbing Instructor (this event does NOT certify as a climbing instructor, that's a different course, but this is a great place to start for the beginner) Held at Maryhill State Park and Horsethief Butte in Washington. (5/2-4) 
More Info & Register
BSA Climbing Instructor Training
Become a BSA trained Climbing Instructor over two fun, engaging weekends at Scouter's Mountain and Horsetheif Butte. This is NOT a beginning climbing class – prior climbing experience is needed. The course goal is to ensure that you can safely and effectively manage a climbing outing for a group. It will help you to solidify your knowledge of BSA Climbing and to bring it into line with the current policies. This course is limited to 20 individuals. It is suggested that you have attend a COPE outing before attending this training (4/11-13 & 5/2-4) More Info & Register
BSA COPE Instructor Training
The council COPE committee will be conducting two Instructor/Staff trainings, the first on April 11-13 at Scouter's Mountain and the second May 30–June 1 at Camp Cooper.
These will be opportunities for Scouters ages 16 and older to get trained in the policies of COPE programs in the BSA. Those over 18 can earn Instructor certification, while those as young as 16 can become staff in training(SIT). It will also be a good introduction for those that are interested in becoming a part of the volunteer staff for the COPE program which will allow you to work with your own unit and others.
The course goal is to ensure that you can safely and effectively manage a COPE event for a group at Scouter's Mountain or Camp Cooper under the direction of a National Camp School certified director. It will help you to solidify your knowledge of COPE and to bring it into line with the current policies of the BSA. This course is limited to 20 individuals. It is suggested that you have attend a COPE outing before attending this training. Click here for more information and to register.